Starter Section $590
Add On Section $549
Specifications: 60" High X 36" Deep X 68" Wide.
Up to a 100 Battery Capacity.
Boltless Configuration for EZ Installation
Easily expandable utilizing a starter and a add on section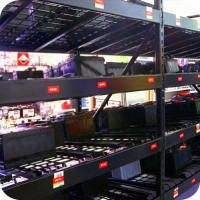 Easily load automotive and marine style batteries from the rear of racking system and batteries automatically flow to the bottom the the rack for selection. When one battery is removed the next battery moves down to take its place.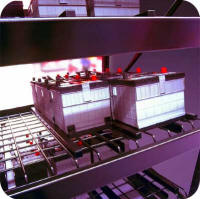 Specialty wire decks placed at an angle support battery channels coated with a super slick coating.
Constructed or a .301 gauge wire at an approximate 8mm diameter on a standard 3" on center wire grid panel.